Solace
Roj Hamlin
Ex-captain of a military unit from a far away land.
Description:
Roj Hamlin, level 3
Human, Warlord
Build: Bravura Warlord
Warlord: Battlefront Leader
Commanding Presence: Bravura Presence
Background: Geography – Urban (+2 to Streetwise)
FINAL ABILITY SCORES
Str 20, Con 10, Dex 8, Int 13, Wis 13, Cha 10.
STARTING ABILITY SCORES
Str 18, Con 10, Dex 8, Int 13, Wis 13, Cha 10.
AC: 19 Fort: 19 Reflex: 16 Will: 15
HP: 32 Surges: 7 Surge Value: 8
TRAINED SKILLS
Diplomacy +6, Endurance +3, Intimidate +6, Athletics +8, Heal +7, Streetwise +8
UNTRAINED SKILLS
Acrobatics -3, Arcana +2, Bluff +1, Dungeoneering +2, History +2, Insight +2, Nature +2, Perception +2, Religion +2, Stealth -3, Thievery -3
FEATS
Human: Action Surge
Level 1: Battle Awareness
Level 2: Weapon Expertise (Heavy Blade)
POWERS
Bonus At-Will Power: Brash Assault
Warlord at-will 1: Direct the Strike
Warlord at-will 1: Wolf Pack Tactics
Warlord encounter 1: Shielded Assault
Warlord daily 1: Bastion of Defense
Warlord utility 2: Knight's Move
Warlord encounter 3: Flattening Charge
ITEMS
Chainmail, Magic Longsword +1, Climber's Kit, Throwing hammer, Heavy Shield, Cloak of Resistance +1, Adventurer's Kit
---
| Level | Magic Item |
| --- | --- |
| 1 | Magic Longsword +1 |
| 2 | Untaken |
| 3 | Untaken |
---
A warrior seeking solace…
I have a story that must be told, but I cannot bring myself to speak of it. It is a story of Chaos and Darkness in the midst of battle. Of a fallen hero, of defeat, of sacrifice. It is the most important story I could tell. But there is none who would listen, even if they could hear.
Enough of that. I come on behalf of my future. I seek a patron in the city of Solace, one who would welcome me without questioning my allegiances. Should an invitation be in the offering, I would gladly accept. I understand if you would like to know more about me.
I am a warrior. Steel, sinew, and bravado define my existence; take away my arms, my strength, and my courage – I am nothing. I am a captain. I have studied battle at the martial schools and have been mentored by some of the most renowned commanders of our time. I have fought for country, for good, and for glory. I have never fought for gold.
When I was young and foolish, I took the name "The Gleaming Commander of the First Bold Legion." I do not share this name with others, for it seems full of childish dreams to me now. It was not that many years ago, but it seems like a lifetime. I had high ambition when I came of age: I was to lead the final assault against the growing chaos and I had laid out bold plans of bravery that would make it so. Now, however, my future lacks such luster. A year ago, I was called Captain Hamlin of the Riven Tuskers. Now, I am simply known as Roj Hamlin, seeker of solace.
Now, I seek only to hide from my past and from my name. I humbly seek an invitation.
Bio:
Roj's coming of age ceremony…

Roj's coming of age ceremony happened in a far away city that few have heard of. It is a semi-public event that happens after the first-years of the academy complete their Terms. The ceremony is performed in the academy's parade grounds where the students file in, perform the ceremony, then watch the rest of the kids ceremonies from the bleachers. For the first student, the only witnesses are the faculty. For the last, every other student bears witness. The students are ordered by their performance in the Terms. Raj, being the top of his class, went first. It is no coincidence that his father was Master of Cavalry.
There is a traditional prank where the first student's name is written on a slip of paper by some of the other boys and he must read from that slip when he gives his name. The peer pressure to read from the slip is immense. When Raj looked at the slip, it read "Son Of A Horse-Lover." He could not dishonor his father, nor could he appear to be weak among his peers. So he said the first thing that came into his mind: outlandish, spectacular, and completely unrehearsed.
"The Gleaming Commander of the First Bold Legion!"
When the name was uttered, an image appeared to cover the entire parade grounds. The faculty agree that it was certainly illusory, though Raj remains uncertain to this day. Armed men in parade attire filled the grounds, standing in formation. In the space of seconds, they turned to face Raj and in unison extended their swords in salute, shouting a single word: "Glory!" In the blink of an eye, they were gone.
As there were only the instructors to witness it, an oddity was not discovered until later. In fact, Roj does not give much credence it. The Master of Command, who is in charge of morale and personnel issues (it was not considered a prestigious position by most cadets) came to him a few days after the ceremonies. He wanted to give Roj the opportunity to discuss the vision, which Roj refused. He accepted that response, but as he was leaving he revealed to Roj that while the Master and the few Ceremonial Adepts experienced the few seconds of the vision, all the cadets do not have that small amount of time loss.
"Time will play an important part in your Glory, young Hamlin," he said. "Be sure to heed its warnings and embrace its boons."
---
His Mark of Fate appears…
On the hot summer day when his hero fell in battle, Roj revealed a Mark of Fate. His entire form was illuminated in a bluish-white light where a gleaming serpentine form appeared around his body. Horns sounded and the smell of rain filled the air. The day grew chill and the taste of fresh water filled his mouth. Then it all faded and was gone. All but the back of his left hand, which to this day bears a brightly glowing symbol. Roj does not understand the meaning of the symbol but does not seek to learn more; due to his sense of dishonor. In fact, he wears gloves to cover the mark and maintain his anonymity. He does not tell the story of that day, not even to his friends.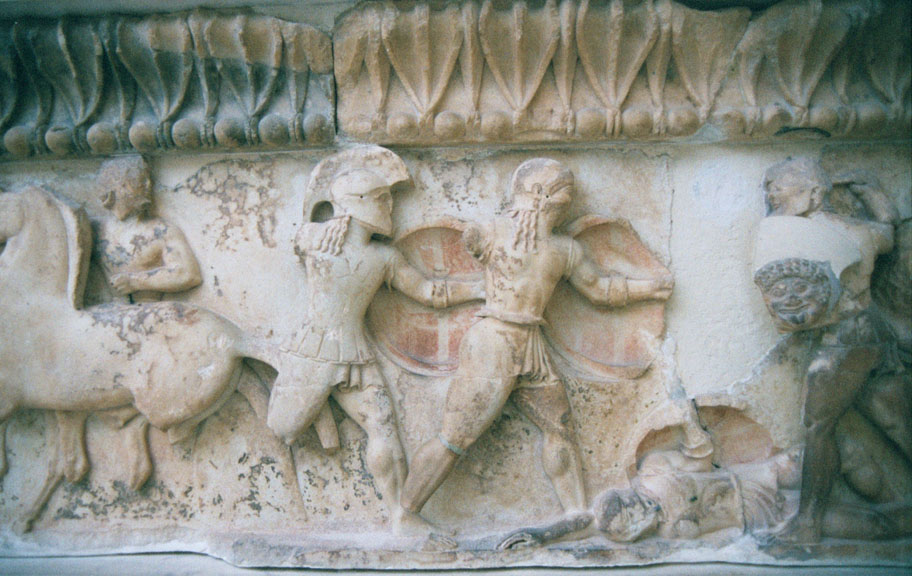 ---
Roj arrives in Solace…
It was a three-week journey from where he came from to Solace. Part of the journey was by ship. It is far enough away that allegiances to former kings won't likely be called upon. He came here seeking solace, after all.

When Roj came to Solace, he knew no one and preferred it that way. He had little coin, for it does not travel well. Instead, he had a chest full of ivory figurines. He bartered some of these for his livelihood and found himself a place in the Embassy district that has a nice view. Within a week, however, he had a visitor. A woman with connections within the city had discovered some of these figurines and sought him out. Initially, she was intimidating and demanded to know from whom he stole the chest. Only after his sincere pleas did she soften and reveal her true nature. She was indeed a daughter of the noble house Cynwig and simply wished to learn more of his homeland. Roj was reluctant at first and rebuked her. However, within a week, the two of them could often be seen walking by the lake discussing faraway lands and becoming quite friendly. Now that two more weeks have passed, their friendship has grown to a point where Roj is undecided whether he should pursue it further.
One other event occurred of note since he has arrived in Solace. Once, during one of his walks, he chanced upon a fight in progress. Rather, it wasn't a fight, but a beating. Four men were brutalizing a fifth; taking turns with wooden batons and knives breaking bones and wounding deeply. Without thought, Raj entered the fray and, with a shout of "glory!" defeated the attackers. He aided the wounded man as best he could and carried him to healers for aid, paying well for their services. The next day, the man paid him a visit to thank him. The man was Caleb Marsh, a detective in the city watch and had been "warned" by a local band of ruffians to stop interfering with their affairs. The two talked long into the day about the city's politics, the trials of the watch, the underworld network, and recent crimes. The two fast became friends.